Stay tuned for breaking news on developments for a HOLLYWOOD feature film based on Rivas's book that's in the works. Updates are forthcoming as well on the long-awaited independent documentary by David Hoffman, soon to go into production. Meanwhile, recent and upcoming media appearances by Mim Eichler Rivas are noteworthy:
In January, Rivas and her book were featured in a sensational half hour special episode (112) on THE HORSE SHOW with Rick Lamb, http://www.ricklamb.com/. Check with producers for the availability of copies of the show.
AUTHOR APPEARANCES SPRING 2007
MARCH

3/25/07 – 4/1/07 Oak Ridge, TENNESSEE
One City One Book of Oak Ridge (BEAUTIFUL JIM KEY the current selection)
3/25 Sunday 3 pm
Pollard Auditorium – For info contact 865-425-3455.

On 3/28 Mim will be honored at the Altrusa Literacy Luncheon and speaking about the power of literacy & community.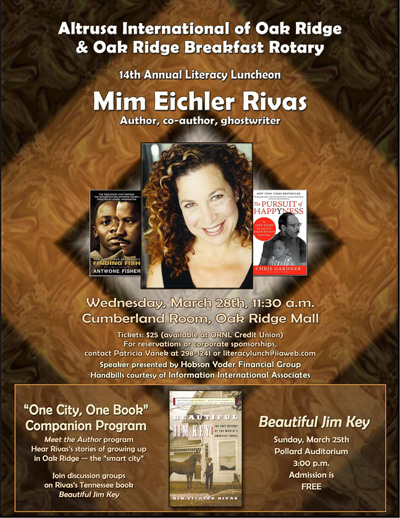 On 3/29 to 3/31, she'll be speaking and holding two workshops on non-fiction writing at the Tennessee Mountain Writers Conference at the Double Tree Hotel in Oak Ridge.

This is the 19th year for the TMW Annual Conference. The two day conference begins with a reception on Thursday night and concludes Saturday night with the Awards Banquet. Attendees have the option to participate at various levels from attending a single session to attending all sessions, receptions, and the awards banquet. In addition to workshops, the conference includes exhibits from publishers, presses, and other industry related businesses, a book store in the Writer's Block, readings from last year's contest winners, manuscript evaluations, and contests. The writing contest is open to everyone whether attending or not, with a special division for students.
APRIL
3/25/07 – 4/18/07 WOODLAND HILLS, CALIFORNIA
The Melody of Words Book Fair at El Camino Real High School, Woodland Hills. Mim will be teaching two workshops for students, teachers and parents in how to sell their projects to publishing and Hollywood, and will be signing her most recent hit books. For more info: Amy Werner awlegal@acninc.net